Posts tagged
sonar
Sur son blog, F. Madiot de MIA-Software nous présente un exmple d'utilisation des concepts model driven appliqués à l'analyse qualité : EMF and SMM to export code metrics to Sonar and Squale
L'approche est très intéressante et prouve à quel point les concepts model driven sont agiles.
Dans un cycle d'ingénierie des modèles, la formule classique est la suivante :

Voici le process (schématique, très!) exploité par l'exemple présenté par F. Madiot sur son blog :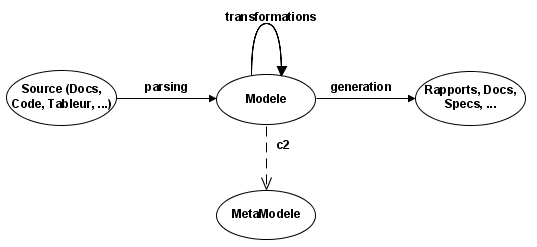 Ici, la démarche se démarque sur deux points :
l'input n'est plus un modèle, mais du code
l'output n'est plus du code, mais ce que vous voulez!
Le model driven engineering n'est pas limité à de la génération de code depuis un diagramme de classe UML!
A vous d'inventer la suite!